Filming
VPMarine has been collaborating with marine filmmakers and photographers for many years. Specialising in the detection and tracking of sperm whales for research and behavioural study, it was a logical step to use acoustic detection to bring these great whales within the reach of the camera lens.
Our experience of whale behaviour and the use of acoustic detection equipment means that Vanishing Point can specialise in taking filmmakers to the heart of the action to optimise filming opportunities. Skilled in boat handling and logistics management we provide a complete service for both the amateur and professional filmmaker.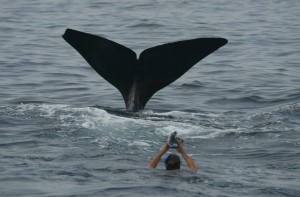 The use of hydrophones allows a camera crew or research team to follow a family of whales at a respectful distance, waiting for a suitable opportunity to encounter them close up. This approach has resulted in some memorable documentary films and images which have been shown to a worldwide audience.
This not only helps to promote public awareness, but also allows researchers to observe intimate details of whale behaviour and group interaction.
To date we have collaborated with the British Broadcasting Corporation (BBC), Nipon Hoso Kyokia (NHK), Tokyo Broadcasting Services (TBS), National Geographic, Public Broadcasting Services (PBS) and many others.